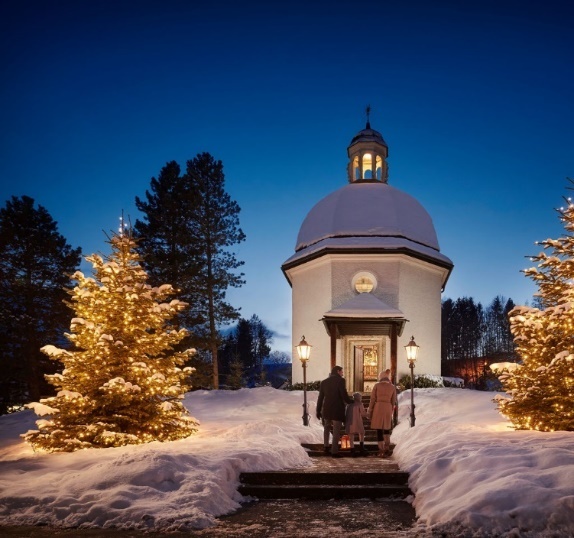 Calm and Bright: 200 Years of Silent Night = Advent is Coming!
The classic hymn, "Silent Night," made its debut 200 years ago on Christmas Eve, 1818 at the St. Nicholas chapel in Oberndorf bei Salzburg, Austria. The melody by composer Franz Gruber is instantly recognizable from the first few notes. The original text by Joseph Mohr has been translated from the original German into over 140 languages.
In 1914, just four years shy of the 100th anniversary of "Silent Night," soldiers fighting World War I along the Western Front held a ceasefire out of mutual respect for the holiday. They exchanged gifts and stories with one another, played games, and sang carols together, including the beloved hymn "Silent Night." Today, churches all over the world gather together on Christmas Eve to light candles, sing "Silent Night," and participate in a timeless tradition of story and song.
Sometimes it feels as if our communities, churches and world are torn and divided about so many issues. This may cause us to feel that hope, peace, love, and joy are in short supply. This Advent, we are declaring a ceasefire from our own sources of conflict. Instead, we will raise our voices in song to celebrate the birth of Christ with spirits of peace and love that transcends all barriers. We hope that you and yours are able to join us for these special events in our lives together:
December 2, 10 am First Week of Advent Worship, "Sleep in Heavenly Peace"
5 pm Community Tree Lighting (Hosted by St Peter's)
December 9, 10 am Second Week of Advent Worship, "Glories Stream"
December 16, 8:30 am Third Week of Advent, "Redeeming Grace"
9 am Special Christmas Coffee Hour
10 am Christmas Pageant Service
5 pm Community Caroling with Senior & Junior PF
December 23, 10 am Fourth Week of Advent, "Let Us Sing"
December 24, "Calm and Bright" Christmas Eve
4 pm Quiet Service, a contemplative, prayerful service.
All are welcome to walk the labyrinth in Wilton Hall following the service.
7 pm Family Service, worship for all ages, come 15 minutes early to enjoy the opening music
11 pm Lessons & Carols by Candlelight with traditional readings, candlelight, and special music, come 15 minutes early to enjoy the opening music
December 30, 10 am "Is Born", Young Adult Sunday